Home

Author Profile

Contents
What Recipes are in the Book?
Chutney
Achar / Pickles
Chiriya, Kachumbar, Raita & Sambhar
Soup
Soft Drinks
Daals
Curries
Vegetable Dishes
Rice Dishes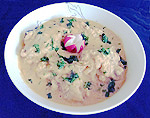 Bissi Bissi (Chicken with Peanuts)


Coconut Rice with a bowl of Chiriya
Chinese Dishes
Meat Dishes
Seafood
Snacks



Samosa


Shami Kabob
Chapatti, Poori, Paratha
Sweets, Paak, Desserts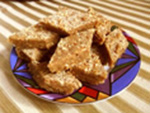 Goond Paak (Gum Arabic Sweet)

How to order the book (Click on image here)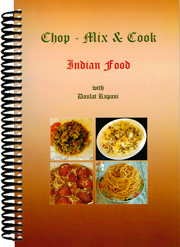 Published on November 11, 2011, 345 pages of this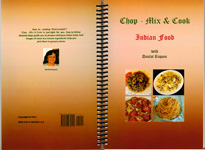 spiral-bound book offer simple-to-follow instructions to prepare over 200 vegetarian and non-vegetarian dishes

The book is not in bookstores but if you are able to, check it out (Catalogue number 641.5954 RUPAN) at six Ottawa Public Library / Bibliotheque publique d'Ottawa branches. One of the branches has modified the book's appearance by replacing the spiral binding with a form of hardcover; on that library's bookshelf the book appears as shown here - front and back covers and spine: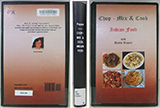 (click for larger image)
Reviews:
'I borrowed your book Chop, Mix and Cook from the library. I really loved it. It is an amazing book. I would like to purchase it, please can you email me the address where I can buy it...... I really love your book. It is an amazing compilation for our future generation'
- Sofia Almas

'This book made me a cook. My family loves you Daulat.'
- Shahida Alibux

'A good Christmas present for that someone in your life interested in learning how to cook Indian Food!....... it truly is a fantastic cookbook, or rather an encylopaedia of Indian cooking!'
- Siham Alibux
In this book the author shares her technique of cooking, 'from-scratch', meals of India, mainly traditional dishes of Gujarat, including adjustment of few recipes to embrace cooking styles of Indian sub-continent communities living in Kenya, Portugal and Canada.

You may either stick with the quantity of ingredients such as chilli, spices, sugar and salt shown in the recipes or vary their quantity to suit your taste. Cooking in your own kitchen comes with the advantage of being able to create new flavours since you control how spicy or mild, salty, sweet or fattening your Indian dish will be. Whether a seasoned chef or new to cooking Indian food, you will find the cookbook a worthwhile companion in your household.
Occupying just about 7 x 9 inches (17.78 x 22.86 cms) of the counter-top, the spiral-bound book, with its Table of Contents and Index, makes referencing during the cooking process easy.

The book contains images of less-known ingredients to assist with their recognition on shelves of grocery stores. If some ingredients cannot be found in stores in the needed form or if one has preference for preparing them from scratch at home (for example, coconut milk, garlic-ginger paste or ghee), at the end of the images you will find notes describing methods of preparing them.

Also included are images of some Indian kitchen accessories: for example a 'tava', 'sev-maker' and 'kadai'.

In all societies, sharing a meal with acquaintances, friends and family is considered the best way to touch their hearts; what better way than to give them a taste of homemade dishes, different from run-of-the-mill tastes in restaurants.

Consider also the element of cost: cooking in your own kitchen saves you money. Moreover, you know exactly what has gone into making the meal. You do not need to worry about preservatives and you enjoy the freedom of selecting fresh ingredients.



Fish Pilaau